Cybersecurity
Your data needs enterprise-level security against a constantly evolving threatscape
Understanding the seriousness of online security threats and the importance of taking precautions to protect against them is crucial to the success of small- and medium-sized businesses. Your Business Solutions takes a proactive approach to preventing security issues so your important data always stays safe.
Threats come in a variety of forms: viruses, worms, ransomware, spyware — the list goes on. Your Business Solutions has the expertise to effectively identify and patch vulnerabilities before breaches occur. Our data security and malware removal solutions ensure dramatically increased levels of IT asset protection for your company.
We deploy end-to-end encryption and round-the-clock monitoring to make sure your most important assets are always monitored and protected.
Your Business Solutions's Cybersecurity solutions include:
Thorough network assessments to pinpoint and eliminate potential vulnerabilities
Powerful antivirus software that detects and deletes suspicious files before they enter your system
Advanced firewalls that block unauthorized access to your network
Content filtering tools that restrict employee access to suspicious websites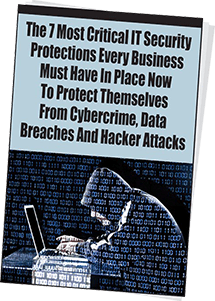 Fill Out This Form To Receive Your FREE Report: "The 7 Most Critical IT Security Protections Every Business Must Have "