Video Surveillance
Our advanced video surveillance systems help monitor your physical assets and deter criminal offenders
While cyberattacks dominate the news headlines, the old, on-premise threats have not abated. Have you invested the same amount of resources in the security of your brick-and-mortar facilities as you have your digital assets?
Businesses across the country rely on Your Business Solutions to provide high-end, reliable video surveillance systems to protect their properties from criminals. Over the years, we've built strategic partnerships with leading manufacturers that allow us to provide modern, effective, and affordable surveillance solutions.
Protecting your physical assets means more than just CCTV these days; we offer cloud-powered solutions with advanced detection and data collection features, fully integrated into your current IT environment.
Stay safe with Your Business Solutions's video surveillance solutions, featuring:
Wireless connectivity
Next-gen cameras with high-fidelity imaging, long-range license plate and facial recognition, and more
Threat detection analytics and object counting
Cloud integration for increased scalability
Video management software
Network-integrated dashboards that let you watch live feeds from your mobile device
And much more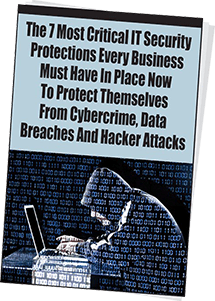 Fill Out This Form To Receive Your FREE Report: "The 7 Most Critical IT Security Protections Every Business Must Have "